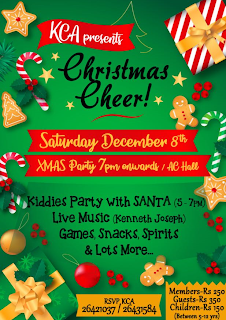 Christmas is forever, not just for one day, for loving, sharing, giving, and not to put away like bells and lights and tinsel, in some box upon a shelf. The good you do for others is good you do yourself. May this Christmas end the present year on a cheerful note and make way for a fresh and bright New Year.
The KCA Cultural & Recreation Team is putting together a one-of-a-kind programme, to bring to our members, their families an evening of fun and fellowship: of Christmas joy and cheer, of peace and goodwill to all in our community, to foster and celebrate the spirit of Christmas.
Passes for Christmas Cheer will be available at the KCA Administrative Office from November 24, 2018 to December 7, 2018.
Rs. 250 (Members)
Rs. 350 (Guests)
Rs. 150 (Children between 5 to 12 years of age)
Bookings can be made by calling the KCA Administrative Office at 2642 1037 / 2643 1584 or by sending an e-mail to member.relations@kcamumbai.org.  Payments for Passes can also be made by Mobile Wallet (PayTM and FreeCharge) to the KCA Mobile Number 98694 58632.
Please note the cost of Passes will cover snacks and soft drinks.  For those of you staying on for dinner, a variety of cuisine will be available for purchase at an additional cost; drinks will also be served and available at cost at the venue.