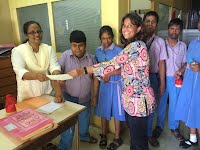 Dilkush Special School began in 1971 with just 15 students in an old bungalow in Juhu.  It continues to be housed in the same bungalow, but the school now has a capacity of 100 students.  
The aim of the school is to cater to the all round development of children with mild to moderate intellectual challenges
.  The school is open to people from all walks of life, with the only criterion for admission being the availability of a seat related to the appropriate age and an IQ level between 35 and 70.  Most of the present students come from the middle and lower income groups, and are not well off.
The school has 11 classes, which focus on academic and vocational skills.  The number of students in each class differs according to abilities and age, and the focus of the class in terms of academic and vocational training.  However, no two children will have the same skills or needs, so the school prepares individual programme's for each child.  Each class is led by a special educator with a Diploma in Special Education – MR (Mental Retardation) recognised by the Rehabilitation Council of India (RCI).
Dilkush Special School's educational programmes are based on the following principles:
1. Functional Academics : basic reading, writing and math, and it's application to daily living.
2. Self-care Skills : personal hygiene and grooming.
3. Pre-vocational Skills : skills training in art and craft, cooking, needlework, and bead-work.
4. Extra-Curricular Activities : yoga, music, dance, sport, and drama.
5. Independence and Social Skills : ability to independently interact and communicate with others in different situations and contexts.
The long-term aim of the school is to get as many children as possible mainstreamed, so the children are groomed to become as independent as possible.  To further stimulate their minds and bodies, the children are taken on several outings to the beach, gardens, and other appropriate venues.
A family that has a mentally handicapped child needs a lot of support because they have to first learn to deal with a future that has become unsure and complicated.  Then they have to deal with a society that is not very accepting, and finally they have to cope with all the new challenges that having a handicapped child brings.  In most developed countries, handicapped children are funded by their governments, but here all the responsibility is on the parents.  This imposes an economic strain that many families feel is impossible to bear.
The school which carries on activities for the children as they grow into adults requires support from corporate entities and generous individuals to help them do their best for their students.  The school will be happy to accept any amount to help with the academic and transportation costs of the children.
The KCA has contributed Rs. 50,000 to Dilkush Special School, and encourages its Members to help out with any amounts they can to make a difference to the lives of these children.