Co-Founder and Director of Majlis (Legal Centre for Women), and an eminent Indian Women's Rights Lawyer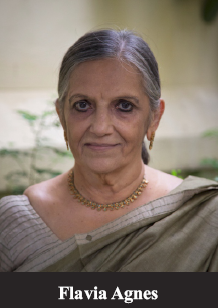 Profile by Dr. Jeanette Pinto
Born in Bombay at the dawn of independence to Mangalorean parents, Flavia Agnes was raised by her maternal aunt in Mangalore.  The first tragedy struck on the eve of her SSC Exams, when her aunt died suddenly.  A few months later, her father passed away.  Her education stopped, and she joined her mother and sisters in Aden, Yemen, where she worked as a typist.  Political turmoil in Yemen in 1967 compelled the family to return to Mangalore.
By then, her elder and younger sisters were married, and though just 20, it was now her turn.  The arranged marriage, to a highly successful executive, turned violent from the very first week.  It hit her like a tornado, she wanted it over, but soon realised there was no escape route.  With each pregnancy, the noose around her neck tightened, and she raised three children under the shadow of violence, while she says, "the Church authorities and the community looked the other way."
But she was determined to break this cycle of violence.  In her search for freedom, in 1980, she came across the fledgling women's movement in Mumbai.  With the support of a few friends, she got the courage to walk out of the marriage, but it was an uphill task.  She persisted with courage and determination, and eventually became a women's rights lawyer at 40.
Since divorce was not an option for Christian women trapped in a violent marriage, she filed for judicial separation, but soon withdrew it as the case was going no where.  She was determined to build a movement to support victims of domestic violence, and evoke workable strategies to help them.  She pursued her education, and acquired a Law Degree in 1988.  Later, she completed her LL.M., and secured an M.PHIL from the National Law School, Bangalore, in 1997.  With this, she realised her dream of becoming a feminist legal scholar.  She had transformed herself from a victim of domestic violence to a renowned women's rights lawyer.  Acclaimed as a pioneer of the women's movement in India, Flavia has played an important role in bringing women's rights to the forefront within the legal system, and in contextualizing issues of gender and identity.
In 1990, she co-founded Majlis (which means assembly or gathering in Arabic), a legal and cultural resource centre, with its primary aim of providing access to justice to poor and marginalised women.  Since its inception, the all women team of lawyers and support persons has provided legal services to over 50,000 women across the class and religious divide.  Training the judiciary and the police, and creating awareness in schools, colleges, and community are important components of Majlis' activities.
After the 1992 communal riots in Mumbai, the organisation also included secularism and minority concerns as its core concerns.  A prolific writer, her writings provide incisive analysis of domestic violence, minority rights, secularism, and human rights.  Significant among her many publications is her gripping autobiographical book, 'My Story Our Story…Of Rebuilding Broken Lives', which has been translated into several Indian languages, as it is an inspirational narrative.
Her own personal struggle against domestic violence, and her unwavering commitment to transform victims into happy survivors has brought her many awards.  She was the recipient of the first Neerja Bhanot Award for personal bravery, the Rachana Award by the Mangalore Chamber of Commerce in 2011, the 11th Annual Kelvinator Gr8 Women Awards 2012, the Zee Marathi 'Unch Maza Zoka' Award 2014, India Today Woman Summit Award 2017, amongst others.  She says, when her Alma Mater, St. Agnes College, Mangalore, invited her as Special Guest at their centenary celebrations, it was a very special moment for her.
Winning a challenging legal case for a victim of violence, and creating positive case law gives her the greatest satisfaction.  She comments with sadness in her voice, that some of the most violent cases she has handled are those of Catholic women.
Her message is, "the decision to end violence has to be taken deep within you, the rest follows, and before you realise, you would have walked far ahead on the road to transform your life".  She adds, "raising children in a violent home sends out a wrong signal.  It is our duty to create a better world for them, and become their role models".
We, Members of the Kanara Catholic Association, salute this great lady hailing from Mangalore, and making history in women's issues.  We are proud of you dear Flavia, and wish you more power to continue the good work you are doing.