Update:
The Monti Saibinishi Fest 2017, on September 3, 2017, was attended by 200 Members and their families at the premises of KCA, Mumbai.
Click here to read a report and view photographs of the function.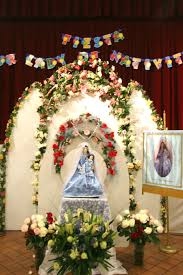 After the grand success of the first celebration of Monti Fest last year, we once again invite you to attend the celebration of our cultural roots on September 3, this year. Like the last year, the KCA AGM will be held on the same day.
Based on your feedback from last year's programme, the Cultural and Recreation Team, in conjunction with the Managing Council, has made certain changes, as highlighted in the programme below.
September 3, is the Sunday before the Feast Day, so it was felt that attending the Novena and Mass at Mount Mary's Church, before the programme, would be a better way to start the celebration.  The Bandra Feast rush and heavy traffic is also avoided.  Thereafter, we will assemble at the KCA for the MONTHI SAIBINISHI FEST and the KCA AGM.
Having a socially and culturally active Association, as well as having more Members take an active interest in the affairs of the institution – we felt that both objectives are met by having the AGM and Monti Fest celebration on the same day.  We hope to see you in large numbers and we are sure that once again, it will be a rewarding day for the entire family. We will do our best to give you a true feeling of being in Kodial on a Feast Day!
Cultural and Recreation Team
The Programme:
8:30 AM : KCA Members may attend Mass at Mount Mary Church, Bandra.
                  Note:- After Mass, bus service from Mount Mary Church to KCA may be provided subject to confirmation of its availment from sufficient number of Members, latest by September 1, 2017. 
9:45 AM : Assemble at the Ground Floor Hall of KCA for light refreshments.
10:15 AM : Prayers and Konkani Hymns, during which new paddy and sugarcane will be blessed for distribution to Members, their families, and friends.
11:00 AM : The voting Members will remain in the Ground Floor Hall for the AGM. The rest of their family and friends will proceed to the Second Floor Hall for games and cultural activities, both in English and Konkani, and soak in the warmth of quintessential Cultural Group 'Konkani Melodies'.
1:30 PM : Enjoy specially prepared buffet lunch with different Mangalorean vegetable dishes, coconut fish curry for those who want some variety, and traditional sweet dish.
The Flyer for Monti Fest is available for download at the bottom of this page.
Passes for Monthi Saibinishi Fest:
Passes for the Monthi Saibinishi Fest are available at KCA Administrative Office from August 17, 2017 to September 2, 2017.
Rs. 200 (Members)
Rs. 300 (Guests)
Rs. 150 (Children between 5 to 12 years of age)
Drinks will be served and available at cost.
Members attending only the AGM and not staying for the Monti Fest celebration and lunch, need not purchase Passes.
Bookings can also be made by calling the KCA Administrative Office at 2643 1584 / 2642 1037 or by sending an e-mail to 
member.relations@kcamumbai.org
.
Payments for the Coupons can also be made by Mobile Wallet (PayTM and FreeCharge) to the KCA Mobile Number 98694 58632.
We look forward to seeing you and your family on September 3, 2017.
Good Time. Good Entertainment. Good Memories.