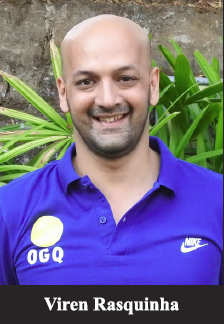 Sportsman, Former Captain of the Indian Hockey Team
Profile by Dr. Jeanette Pinto 
Viren Wilfred Rasquinha is the hot new age Indian Sportsman.  Surely, you would have heard of him, he is a Star of India's National Field Hockey Team.  Born on September 13, 1980, to his parents Eric and Merlyn Rasquinha, he grew up in an atmosphere of joy, love, and discipline.  His parents had a huge role to play in inculcating some good habits.  They taught him the importance of physical fitness and studies, planning, eating healthy home cooked food, waking up early, etc,.  Surely, they believed "a healthy mind in a healthy body".
Viren completed his school education in the prestigious Jesuit Institution of St. Stanislaus in Bandra.
After trying out a few other sports, he was convinced he had the magic of wielding the hockey stick.  He was on the school team, and winning soon became a habit.  He was lucky to have trained under some of the finest coaches like Olympian Marcellus Gomes, and Clarence Lobo of Tata Sports Club and former Indian Coach.  The bond and relationship any player builds with his coaches is really very important.  Hard work, discipline, and team spirit are what he picked up from his coaches.
Viren wears a colourful feathered cap.  He is a rank holder in his 10th Boards; was part of the Gold Winning Indian Juniors; and a former Captain of the Indian Hockey Team.  He donned the Indian Jersey for 180 international matches, a credit indeed.  He was a first class student right through his college, an Alumnus of the Indian School of Business in Hyderabad, a CEO at Olympic Gold Quest, and of course, an Arjuna Awardee.  One wonders how he could achieve so much in such a short span of time.
Viren was part of the Indian Team that won the Hockey Junior World Cup in 2001 in Hobart, Australia.  He made his international senior debut as a midfielder in May 2002, at a Four Nation Tournament in Adelaide.  He was also Captain of Premier Hockey League Team 'Maratha Warriors'.  Viren enjoyed the highs of success, bounced back from injuries, suffered the whims of the Indian Hockey Federation, and moved on.  He announced his retirement from hockey on January 15, 2008, to pursue Management Studies at ISB, Hyderabad.
He said, "Retirement is a very personal thing.  For me, it was difficult, but I always wanted to retire at the peak of my game.  People ask me till today, why I retired early and remember me fondly, with respect.  That is all I can ask for".
What are Viren's thoughts of the future of hockey?  He feels that the domestic level hockey standards are poor.  There is an urgent need to upgrade the quality of coaches, who can teach the correct techniques.  Infrastructure, fitness, and diet are areas that need improvement.  A lot of thought and action needs to be taken by the Hockey Federation.  There has been progress over the last few years, but it needs to speed up.
His major international accolades include a Silver Medal at the Busan Asian Games 2002, Gold Medal Asia Cup 2003 at Kuala Lumpur, and Gold Medal at the 1st Afro Asian Games 2003.  He was conferred the 2005 Arjuna Award, for Hockey by the Government of India, and the Shiv Chatrapati Award in 2004 by the Government of Maharashtra.
Currently, Viren is the CEO of Olympic Gold Quest (OGQ), a not for profit Foundation, started by sports legend Geet Sethi,  Prakash Padukone and Viswanathan Anand, with a mission to help Indian athletes win Olympic Gold Medals.  In the last two Olympics at London 2012 and Rio 2016; 5 of the 8 medal winners for India were athletes supported by OGQ viz. Gagan Narang, Vijay Kumar, Saina Nehwal, M C Marykom, and P V Sindhu.  In fact, OGQ started supporting Sindhu when she was only 14 years old.
Amchi Khobor is happy to feature the first of our Mangalorean Sportsmen.  It shows that we are an all-round people, proud to share our joy in the achievements of our entire ilk.  Indeed, Viren is an inspiration especially to our youth; he has proved how one can combine academics and outdoor activities  as well  as be a successful person in life.  He has done the Mangalorean community proud.  
Cheers to Viren!